Family
Mrs. Nirmala Ramanujan (Wife)
As I write this, it is five and a half years since Mr. Ramanujan left us most unexpectedly in June 2004. Our daughter Sukanya and I were only planning to bring him back home after a brief treatment for a relapse of lymphoma. But things unexpectedly took a bad turn and he passed away. We did bring him home but in a way that I had never imagined.
I still donít know how I passed the initial days, weeks, or months recovering from the shock and having to deal with hard reality issues like getting the legal heir certificates, bank matters and other mundane affairs. He was taking care of everything and I was blissfully ignorant like a baby just running the home with the cash he would give me every month.
But I felt he would expect me to rise to the occasion (he had enormous confidence in me to manage things though I donít know how) in a determined manner I managed to learn to do things- rounding up every thing. Unfortunately MSSR Softwares came to an end and the office had to be locked up. But I felt he would have had no regrets as he rounded up every thing during his last year as though in preparation. He had even placed his protťgťs in other offices. So there was really nothing much I could do there.
It is still fresh in my mind the time we took the decision to move to Madras in 1979. We were in NITIE then. We did not have much financially and did not know anybody high up in Madras. He had this confidence in himself and the consultancy assignment with Nelco which he bagged after impressing Mr. Ratan Tata in a meeting. MSSR would jokingly assure me (not that I ever worried about it) ďI will give it 6 months .If I donít succeed I will take up a positionĒ It never came to that due to his sheer hard work and sincere effort and persistence.
He impressed people and made contacts through word of mouth. We literally started MSSR Softwares on Jan1, 1980! The name came later. Initially we did not have much funds, so there was no office or secretary. We took a rented house with a room for his office in it. I was the first secretary he had! I could type a little and with a borrowed typewriter I used to type away!† Even after he acquired a young man to type letters he would still ask me to type some personal letters for him for a few years more. The first house we rented was so bad we had to vacate it in 6 weeks and the agent did not even give the advance back. The cheque bounced! We could ill afford to have setbacks like that in those days. But we managed to be cheerful and moved on. Slowly he became busier and busier and I was managing the home front and the two girls all by myself. Committed professional that he was, he would work on Sundays too. Gradually things started settling .He got his own apartment for his office in 1987- his proud achievement. In 1989 we moved to Tambaram to my parentsí house. MSSR loved Tambaram and the tree lined house so much he didnít mind commuting by train every day spending 2 hours. He said it helped him think and by walking to the station he said he got his exercise.. Sometimes he would take cycle rickshaw and that is how he got to know those people and tried to help them by taking insurance for them and helping their kids to study. They were the chief mourners at his funeral.
He disliked cars but got one anyway in 1997 only for his daughter Lavanyaís sake! He would insist on their following every rule and take proper licenses before even riding a two wheeler. He was highly principled and conveyed that to his daughters too. When Lavanya became an animal lover and gave up wearing leather and silk he appreciated that and himself gave up wearing leather shoes and wore only canvas shoes till the end .Lavanya studied computer applications and followed his footsteps. When younger daughter, Sukanya wanted to do MBA, he gave her freedom to do it, but only after she logically convinced him! Just as she did in joining NCC Air wing in college and learnt swimming! He gave them freedom to what they wanted but in order to respect the freedom, they had to explain the logic behind their wishes!
He hated travelling but encouraged us to travel. When I got US visa in 2002 and travelled to be with Lavanya for 2 months he was thrilled like a kid, as if it were a big achievement!
I would do anything to get a word of praise from him. I grew up in a protected home as I happened to be an only child but learned to do many things including riding a two wheeler, learning French- thanks only to his encouragement. He had enormous confidence in me. Even after he passed away I tried to manage things on my own mainly because I felt he would expect me to do and so I did not want to fail him.
This web site has been my dream. It is now a reality thanks to my daughter Lavanya and all the people who generously shared their memories of him. My special thanks to Mr. M. Parthasarathy who was like a right hand to my husband in professional life and is now like a son to me. Without his valuable contributions this work would be incomplete.† Of course special thanks to Sukanya who makes me do things in her fatherís fashion and inspires confidence in me now!
I am sure MSSR is watching over us now and blesses us. I just wish I could once more hear him say ďVery good MaĒ.
<![if !word & !ppt & !excel & !vml]>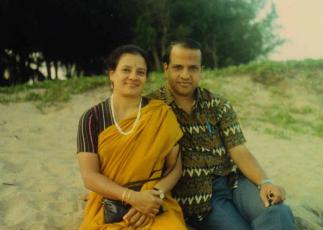 <![endif]>
Sukanya Ramanujan
And for the second time in less than a year I set out to write about a very close member of my family. I had earlier this year written a small note as part of my familyís project to dedicate a website for the memory of my grandfather Dr C T K Chari. And now as part of a similar project coordinated primarily by my mother and sister I attempt to put down my thoughts about my father M S S Ramanujan.
†As I sat down to collect my thoughts I realized that this was no easy task. Writing about my grandfather had been easier. In a way he was a more distant figure in my life having passed away when I was very young and it was fairly easy for me to recollect the memories I had in order to pen a note on him and his influence in my life. But how does one put down everything that one wants to write about their father in just a small essay? There is not a single aspect of my life that has been untouched by his influence- even 5 years after his death. To touch on all these aspects would be impossible even if one were writing a complete book.
†My task was made even more difficult by the fact that so many of my fatherís colleagues, friends, acquaintances and also my family had already written almost everything that could be said about him- MSSR- the honest and upright individual, MSSR- the competent professional, MSSR- the mentor, MSSR- the devoted and loving husband and father.†
†I resolved therefore to keep my note to the simplest only touching upon some memories and qualities of his that were special to me.
†I always had an immense faith in my fatherís capacities to get things done. As a student at Kinder Garten I was always found asking my teachers to send for my father so that he could come and ring the school bell. Associating the ringing of the school bell with the close of school, I always believed that my father could get me out of any unpleasant situation. I donít think this belief in him ever changed as I grew up though I didnít on future occasions call upon him to help me skip school or classes.
†My father was also a strict though not unkind disciplinarian who imbued a strong sense of value in both me and my sister. He always taught us the value of hard work. He also asked us to stick to the truth, to respect the decisions made by elders, to not waste available resources and to always be kind to the people and other beings around us.
†But living with him was not always like being in a boring moral sciences class. Some of my happiest memories of my father involve sitting with him on Sunday mornings in leisure and just chatting about simple things in life like school or friends. I also used to love listening to him talking about his childhood memories. He had an amazing sense of humor and could make even the simplest episode from his childhood resound with an immense sense of happiness and fun.
†He also used to make an effort to share my interests and tastes. I have very fond memories of sitting with him on Sunday evenings to watch Formula 1 racing which used to be quite a favorite pastime of mine. My father and I were also the only two of our family who shared an interest in cricket and other sports and there were many a time when I used to sit for long hours watching one match or the other on TV.†
†My father tried unsuccessfully to help me with my school work. I somehow or the other always managed to find an excuse and slip away from getting lessons from him.
†My father had strong views and opinions but he was never closed to listening to the views of others. Even within the family he gave us freedom to develop our own styles of thinking and our own opinions. If there was something that differed from his own ideas, he was always willing to listen to our reasoning and be convinced by us.
†Like others in my family, my father also encouraged the habit of reading and buying books. I always had to ask permission for buying things using the add-on credit card he had given me- everything except books that is. He always used to tell me that even if you used a book on just one occasion to even refer to only a single line in the entire text you would have still obtained the complete value of the book.
†He was also extremely proud of his family and everything that we did and would always talk about us in the highest regard to his friends and colleagues. To this day I hope that whatever I do will still continue to make him proud and happy.
†These are but small ways in which I remember my father. A kind and honest person he touched the lives of numerous persons around him always changing their lives for the better. I hope that in our own ways we will continue to carry his memory in our lives.
Lavanya Ramanujan
Reading all the wonderful write ups about MSSR, it seems to me that there is hardly anything that I could say that has not been said. But then, I had the unique privilege of not only being his daughter, but also his student and later got a chance to work under (or 'with' as he would insist) him.
He - along with my mother - guided me every step of the way on my road to becoming who I am today. In fact, there is not one virtue in me that has not been carefully cultivated by them. He always taught me to be ready to learn new things, and not judge worth based on where it came from but only to accept its goodness. It was the single most important thing that I have learnt in all my life - to be open and to be ready to absorb as a dry sponge. They also taught me to respect wisdom, elders and knowledge, to appreciate the simplest things in life, to be gracious when life throws a curve ball at us and to be generous to a fault.
Modesty was a key element of his personality and the way he approached everything in life. He had this air of friendliness and approachability to him that made invited people to confide in him. Even as a teenager, I would grin at him when he would start chatting up the auto rickshaw drivers. He would impudently ask them for atrocious change money. Something that they usually are immune to from me or anyone else I knew. But for him, oh yes, they had change and would willingly part with it! He also had the most valuable gift in the art of listening. In fact, he would probably say that it what made him good as a consultant. He was genuinely interested in everyone's well being and would go out of his way to be of service to be people who needed it.
He appreciated youth and enthusiasm and he encouraged a lot of young people to educate themselves and succeed in life and gave them every sort of help to them to speed them along their way. He let them talk to him about their dreams and fears. He helped them monetarily if he could. Giving was part of what he considered his duty and a way of life. I do not think it ever occurred to him that it was not expected for him to give. There was no difference in the way he treated the people who worked for him and how he treated his family. In fact, the people who worked for him were part of his extended family and he was always looked out for each one of them.
He was a great teacher and he could always engage the attention of a room full of people in a heart beat. I had the privilege of listening to his lectures at multiple settings - at Development platform related seminars, at Management seminars and even a Information Technology seminar for students at my own college. No matter who was in the audience, he bound them into his lecture and gave each one of them something unique to take away, charging them with inspiration. It is he who taught me to be analytical. I still remember the summer that he taught me how to draw flow charts and another where taught me linear equations and algebra. We would go to his office and then he would teach me for a bit and then set me problems to solve. He made them interesting and that was probably the only time I ever got things right! What I learnt with him then, stands me in good stead even today as programmer turned analyst.
He adored books of all kinds and encouraged all of us - my mother, sister and myself - to read and buy books. He had a book seller friend who sold him series of books - much to my mothers initial dismay - including the encyclopedia Britannica! His sense of justice and appreciation of hard work lead him to admire works by fiction authors like Edgar Wallace - from whose 'Four Just Men' he quoted liberally and also A. J. Cronin. But his interest did not stop there. There were technical books, theological books and even science fiction books that captured his interest. In fact, I would go as far as to say that books were the one indulgence we as a family had and still have and that is thanks to the encouragement he gave.
He also had a wide range of interest in music. When he was younger, he used to listen to Jim Reeves, but his partiality was to Hindustani music. But he did not censure us for our wild tastes in music growing up. In fact, he good naturedly put up with it. The only incident I remember is that once when he found out that I had been to a place where they made pirated copies of music. He asked me 'What would you feel if someone pirated the software we built?' That stopped me in my tracks and taught me the valuable lesson of respecting creativity. Wanting to share some of my music with him, we found that he liked instrumental music from Kenny G, Yanni and later on some pan-piped music.
As a young kid, I was in awe of my father. He had my complete respect and attention whenever we were together. If I did something wrong and if he did not mention it or talk to me about it, I considered that to be my punishment. Sometimes I feel that he was a better father than I ever deserved, but at the end of the day, I'm just so glad that I had such a wonderful gift as to have him for my father, my teacher. I still miss him every day. There are so many things that he would have loved to share, so many things that I wish I could ask him advice on and I'm sure I'm not alone in that.
I console myself that by valuing the essence of what he considered important - kindness, grace, modesty, honesty, gratitude and humor - we bring his presence into everything that we participate and that every time we do something that he would encourage and appreciate, he smiles.
<![if !word & !ppt & !excel & !vml]>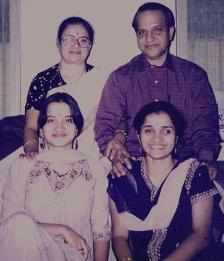 <![endif]>

<![if !vml]>